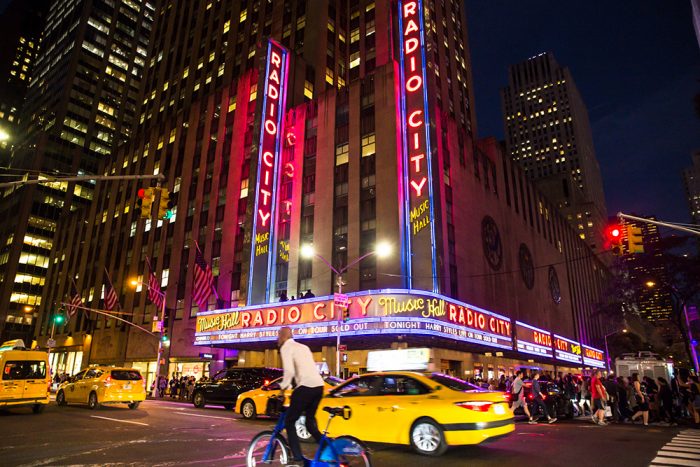 It doesn't take long for incoming first-year students at Adelphi to start taking advantage of their proximity to New York City.
During Welcome Weekend at the beginning of the school year, students can choose from a variety of city excursions, like a day on the beach and boardwalk at Coney Island, a Circle Line cruise around Manhattan or a scavenger hunt in the city. At the start of the most recent fall semester, more than 500 students participated in such adventures.
It's easy for students to get to New York City at any time during the school year. They can walk from campus to the Long Island Rail Road station and be in midtown in less than an hour. And they can take part in the growing number of big-city activities Adelphi plans for them.
During the 2016–2017 school year, thanks in part to the launch of a new program, Explore NY, there were 43 excursions to the city.
The University offers New York City activities, including numerous plays and sporting events, nearly every week during the fall and spring semesters. Costs are heavily discounted—students might pay just $30 for a Broadway play that can often cost $100 or more, plus free round-trip bus transportation to the event.
There are also opportunities for students to give back to the New York City community. For instance, during a program called Midnight Run, more than 50 students gathered unwanted clothes from residence-hall neighbors to give to the homeless. The students were taken by van to prearranged areas of the city, where they distributed clothes and food to anyone in need. The event ran until 1 a.m., and students interacted with people they might not otherwise meet.
"There are a lot of students who have this need to volunteer and to give their time to others," said Guy Seneque, director of Residential Life and Housing. "That service component is fulfilling for a lot of our students."
Attending some of these events also counts toward the University's new Go Gold! program that rewards students with prizes for attending multiple events.
Tara Wagner, director of Adelphi's Center for Student Involvement, said the University's efforts stemmed from a recent strategic plan decision to take better advantage of New York City. Thanks to increased promotion of these events, more students are taking notice.
"We've really upped our New York City game," she said.