Adelphi's Manhattan Center is going through a transformation.
Located in downtown Manhattan, on the corner of Varick and Canal streets, the Manhattan Center provides Adelphi students with their own space in the busiest city in the world. Seated near Soho and the Financial District—and easy to access by train from Garden City—the center is the perfect launching pad for students who want to explore all that this vibrant and multicultural city has to offer.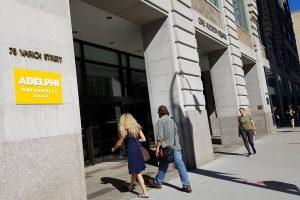 It's even more welcoming now thanks to a recent redesign. A gold ceiling resembles a sunrise, alongside giant posters of New York City skylines. This bright, modern makeover transforms the space, incorporating the new Adelphi brand colors to truly represent the University. The center will also include a brand-new lactation room for nursing mothers and a prayer room for all religions.
Still, the Manhattan Center isn't just undergoing physical renovations. It will also host new programs and immersive student experiences in 2018. While the Manhattan Center has been host to degree programs in social work and teacher education, this September, the new Global M.B.A. program was added to the roster, geared toward international students looking to cultivate business management skills for a global market.
Another program, Adelphi University International (AUI), will provide English as a second language and professional development courses to prepare students for the Global M.B.A. program. The new Adelphi English Language Institute (AELI) program will also provide English-language training for nonstudents and the public, including visitors. Other programs are in the works.
These improvements will help Adelphi expand its footprint outside the main Garden City campus and continue to take advantage of the resources that nearby New York City has to offer. It will also further Adelphi's mission of connecting with an international student base and the many learning opportunities embedded in one of the world's most multicultural cities.
For Adelphi, the future of the Manhattan Center is as bright—and as exciting—as New York City itself.
About Adelphi: A modern metropolitan university with a personalized approach to higher learning.
Adelphi University is a highly awarded, nationally ranked, powerfully connected doctoral research university offering exceptional liberal arts and sciences programs and professional training with particular strength in its Core Four—Arts and Humanities, STEM and Social Sciences, the Business and Education Professions, and Health and Wellness. Adelphi is dedicated to transforming students' lives through small classes, hands-on learning and innovative ways to support student success.
Founded in Brooklyn in 1896, Adelphi is Long Island's oldest private coeducational university. Today Adelphi serves nearly 8,000 students at its beautiful main campus in Garden City, New York—just 23 miles from New York City's cultural and internship opportunities—and at dynamic learning hubs in Manhattan, the Hudson Valley and Suffolk County, and online.
More than 100,000 Adelphi graduates have gained the skills to thrive professionally as active, caring citizens, making their mark on the University, their communities and the world.